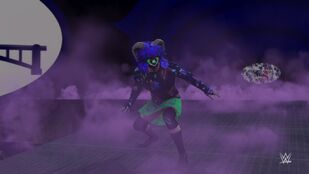 Crystal Steel Dregs is a living glitch that haunts the Bridge Fighting Federation. This unforgivable atrocity is a former BFF Champion and was once the proud leader of Horny Squad, the most destructive faction to ever walk this mortal coil.
Crystal Steel Dregs does not exist. Born under a glitched eye and crafted from moth parts and stolen images, Crystal Steel Dregs crawls from arena to arena and gets to punch anybody who looks at their knees. Crystal Steel Dregs was once known for their vomit inducing ring attire and flashy performances but that reputation was quickly replaced by the recurring incident of Crystal Steel Dregs getting their ass crushed over and over again. After losing a title match to Minty (granted from winning the Money In The Bank ladder match) Dregs decided that enough was enough and decided to pull two monsters from The Void Pit.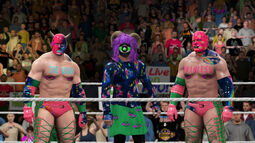 Heel Turn: Enter Whorney Squad
Edit
Horny Squad was born in August of 2016. Along with Princess and The Goon, Crystal Steel Dregs began a violent takeover of the Bridge Fighting Federation. They began cheating to win literally everything, earning many belts in the process. On the night of the Tribute To The Troops: Fight For The Machine event, Whorney Squad infected the arena with their essence and earned the opportunity to punch everybody who dared to look at the interior of the building. This new ring was a sign that Whorney Squad had come and come hard, having indoctrinated the President Chairman of the company and ruling over the BFF with an iron knee. Crystal Steel Dregs was the Prince Queen of the entire fucking world until one fateful Bridgefight event, when it all came crashing down (with Whorney Squad losing every possible match and all of their belts). After that night, the rivalry between Crystal Steel Dregs and Minty finally came to a close, with Minty coming out as the ultimate victor and with Seanald Kelley finally free from the mind control of Whorney Squad. Since then the BFF has been disbanded and nobody has really bothered to wonder what became of Crystal Steel Dregs.